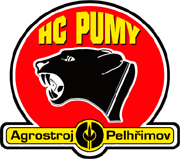 Sports and hockey club
The club HC Cougars Pelhřimov was founded June 15, 2015 for all children who want to play sports and have fun with sports and games in a positive environment. Head coach of the club's co-founder Ivan Padělek (four-time champion in ice hockey and a former outstanding player Czech Extraliga and KHL). Ivan Padělek is a coach with years of experience in the education of young hockey players, as evidenced by the fact that his private hockey school has undergone more than 200 hockey players of all ages from across the country. Coach Ivan Padělek owns coaching license B. HC Pumas signed with the coach coaching long-term contract. Salary coach is provided by the sponsors of the league, so parents need not worry about unfair charges. The fee for the season 2015/2016 is 500, - CZK.
The main objective of the association is to teach kids the sport and the game is fun. Youth coaches are practicing gentle way of educating young hockey players, especially the smallest ones. We do not count, nor do not register, who gave how many goals or passes. All children receive the same space in matches regardless of their performance, especially 1 to 4 classes. We want to teach children to love hockey and collective game. Especially not to allow children speculation about who gave how many goals and passes. To have children from time to 5th grade higher when competition awakens in them and when they are mentally tougher and bigger rivalry rather kidnap. Our view is that the youngest among them should not be unduly compete, but they should be trained for the team. After four years of friendly matches, tournaments and relaxing workouts, they have love hockey and hockey and the sport will last into adulthood, despite the crisis, which certainly in the life to come. But all this is not to say that we have given up the ambition of the club to raise top hockey players.
MORE HERE